The 2023 World Rowing Indoor Championships
For the first time ever, Canada hosted the World Rowing Indoor Championships.   See the Race Results here.
The event took place February 25-26 (Saturday and Sunday) and was staged as a hybrid event with athletes competing in-person at the Paramount Fine Foods Centre in Mississauga, Toronto, Canada, and from their homes all over the world. Over 1800 athletes participated in this event – with the majority of them competing in-person in Toronto.
The 2023 World Rowing Indoor Championships   attracted a wide range of athletes from different sporting backgrounds – including CrossFitters, powerlifters, discus throwers, as well as the existing Classic, Coastal and Indoor rowing communities from all across the World.  The 2023 event introduced  the World Rowing Versa Challenge, a competition composed of four events over the two days with 8 men and 10 women.
The event was streamed on World Rowing, www.worldrowing.com   and World Rowing's YouTube channel. The program was also Live streamed on CBC Gem and CBC Youtube.
Media inquiries should be directed to media@wrichtoronto2023.ca   See WRICH Media Guide.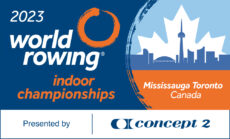 Subscribe to the WRICH 2023 Bulletin for the latest updates.