The 2023 World Rowing Indoor Championships
For the first time ever, Canada is hosting the World Rowing Indoor Championships.
This February 25th and 26th, 3,000 competitors from around the world will take over the arena floor at Paramount Fine Foods Centre for two action packed days. Register for WRICH 2023 for fun and challenging test of your fitness and connect to a community of friends!
The event is open to everyone from all backgrounds, ages 13 and up.

Spectator tickets go on sale December 1st, 2022.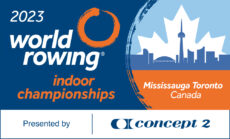 Subscribe to the WRICH 2023 Bulletin for the latest updates.