The world is coming to Canada
Subscribe to the WRICH 2023 Bulletin for the latest updates
An invitation to competitors from all over the World
Take your training and fitness program on Concept2 rowing ergometers to a whole new level on the World stage. World Rowing is calling on gym athletes, Olympians, Paralympians, club rowers, paddlers, and Crossfitters of all ages for two days of racing for the title of World Champion. 88 medal categories will be contested.

2000 metre distances on Saturday and 500 metre showstopper sprints on Sunday! For the first time ever, WRICH will be a "hybrid" competition inviting anyone to race in-person in the arena with the roar of cheering spectators, along with Continental Qualifiers racing virtually from all over the world on their Concept2 ergometers in real time. They will be connected via the internet to the same central timing and results system and use the same performance metrics as those in the venue.

Team Events are a spectator favourite.  Crews of eight, four, and doubles will be featured races in the program for World Rowing Indoor Championship medals.

World Rowing Versa Challenge
A new, exciting multi-event challenge has been added to the World Rowing Indoor Championships. The World Rowing Versa Challenge will celebrate the most fit indoor rowing athletes in the world. Over two days, athletes will compete for points in five events that test endurance, speed, strength, teamwork and stamina. Ten men and ten women will be invited from across the globe to participate in "The Versa" based on a series of online qualifying tests.
The full WRICH 2023 Race Schedule will be available September 2022.
For the first time ever, Canada is hosting the World Rowing Indoor Championships.
This February, 3,000 competitors from around the world will take over the arena floor at Paramount Fine Foods Centre for two action packed days. 200 new Concept2 RowErgs, exciting race formats, and much fun to watch and cheer.
The city of Mississauga is proud to host the 2023 World Rowing Indoor Championships.
As Canada's 6th largest city, Mississauga is in a class all its own. Neighbouring the city of Toronto, Mississauga is home to cutting-edge facilities that offer big-city appeal, lush green spaces, exciting attractions, and diverse neighbourhoods.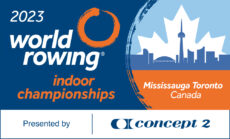 Subscribe to the WRICH 2023 Bulletin for the latest updates