The world WAS HERE IN Canada
February 25-26 2023, Mississauga Toronto, Canada
Another World Rowing Indoor Championships makes History
For the first time ever, Canada hosted the World Rowing Indoor Championships as a hybrid event – athletes competed both at the Paramount Fine Foods Centre in Mississauga in-person and from their homes all over the world. Many thanks to all of the many partners, the half-time show performers (Mr. Sauga, C5Magic, and the St. Marcellinus Drumline) and a huge appreciation for our Volunteers who stepped up in so many ways. 
If you need a new, slightly used Concept2 RowErg to train for 2024 Prague check out Ergsales here.   
2000 metre distances and 500 metre showstopper sprints were featured for individuals from age 13 to 70+   WRICH 2023 was staged as a "hybrid" competition with the roar of cheering spectators, along with up to 15 Continental Qualifiers racing virtually from all over the world on their Concept2 ergometers in real time. The remote competitors werel connected at the same time to the Time-Team Race platform using the same performance metrics as those in the venue.

Team Relay Events were a spectator favourite. Crews of four covering distances of 2000 metres, switched up every 250 metres. Mixed, Men's and Women's were featured races in the program for 2023 World Rowing Indoor Championships.

The World Rowing Versa Challenge celebrated the most fit "versatile" indoor rowing athletes in the world. Over two days, 8 men and 10 women, indoor rowing athletes  competed in person in Mississauga for points in four events (Beep, Key Speed, Bullseye and the Pentathlon using sliders).  The challenges  tested endurance, speed, strength, teamwork, and stamina. 
"I do this for my children and my grandchildren," said Kingswood after her record setting race. "I always tell them I'm not a mother who does crafts or bakes cookies. I like to compete and work hard. I want to leave them with something that inspires them."
The city of Mississauga is proud to host the 2023 World Rowing Indoor Championships.
As Canada's 6th largest city, Mississauga is in a class all its own. Neighbouring the city of Toronto, Mississauga is home to cutting-edge facilities that offer big-city appeal, lush green spaces, exciting attractions, and diverse neighbourhoods.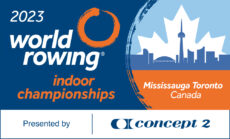 Subscribe to the WRICH 2023 Bulletin for the latest updates.